Setting up Inbound Calls
Registering SIP trunk
Registering your SIP trunk with one of the regional Wavix gateways is necessary (for digest authentication only) to receive inbound calls.
Register and send SIP traffic to regional gateways for low latency access. Read our FAQ.

Amsterdam, NL
nl.wavix.net

Dallas, USA
us.wavix.net

Singapore, SG
sg.wavix.net

Sydney, AU
au.wavix.net
Fig. 6 Wavix regional gateways
Select a regional gateway with the lowest latency to your device (in this example, it is us.wavix.net):
1.
Navigate to /usr/local/FreeSwithc/conf/sip_profiles/external/
2.
Create or update SIP external profile wavix.xml
<include>
<param name=
"username"
value=
"YOUR_SIP_TRUNK_ID"
/>
<param name=
"password"
value=
"YOUR_SIP_TRUNK_PASSWORD"
/>
<param name=
"realm"
value=
"us.wavix.net"
/>
<param name=
"register"
value=
"true"
/>
<param name=
"context"
value=
"wavix"
/>
<param name=
"caller-id-in-from"
value=
"true"
/>
<param name=
"sip_cid_type"
value=
"none"
/>
</gateway>
</include>
Copy
Copy
Note
Each regional gateway has a unique authentication realm that corresponds to its domain name
Enter the SIP trunk ID and password you configured for the SIP trunk on the Wavix platform in the "username" and "password" variables respectively
You can check the status of your SIP trunk registration using the "fs_cli -x "sofia status gateway wavix" | grep State" command:
root@freeswitch:~# fs_cli -x "sofia status gateway wavix"
PringState
0/0/0
State
REGED
Fig. 7 FreeSwitch SIP trunk registration status
If registration is successful, you will see 'REGED' in the "State" column. Please note that if the SIP gateway is not registered, incoming calls will not be routed to your FreeSwitch.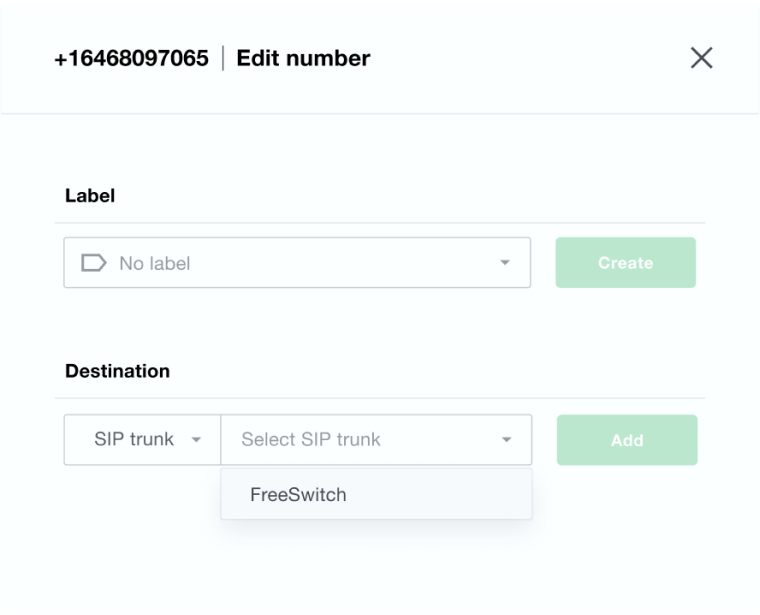 Fig. 8 Wavix DID configuration
Here is step by step configuring destination for inbound calls on the Wavix platform:
1.
Select My DIDs under Numbers & trunk in the top menu
2.
Click on the three dots on the right-hand side and select the Edit DID option.
3.
Select the destination trunk in the Destination section
4.
Click Add to add the destination for the DID
5.
Click Save to apply changes
Configuration is completed and inbound calls should work now.